If you're anything like the team at Museo, then January means lots of thinking about what you want to achieve through the year, coupled with plenty of sun exposure. It's starting to make us all think a bit fatalistically about what we are going to look like as we age, and what we can work on as we shift our habits and focus on what positive things we are going to implement from better exercise and diet to having our best ever skin.
Here's our recommendation for a great action plan moving through the seasons this year. PLUS if you make it all the way to the end of this post, we have a great offer for our first 20 callers… Read on!
SUMMER
Summer skin is all about hydration and preventative measures. If you haven't already got it sorted, get yourself a good quality every day wear facial sunscreen (or talk to the team at Museo about our favourites) to ensure that you're protecting your skin as much as you can. Focus on drinking 3-4L of water a day to ensure great whole-body hydration and to help you develop the habit of drinking more water each day. Look for great moisturisers that offer you extra hydration and care after sun, particularly anything with beautiful natural ingredients and that are lightweight, to avoid greasy looking skin in summer
Now is also the time to focus on developing good habits – whether you're a teen trying to get your cleanse and moisturising routine right or a mid-aging to mature skin  switching to anti-aging serums and regular treatments, now is the time to develop the habits that will hold you in good stead throughout the year.
AUTUMN
Now is the time to slough away the dead skin after a season of Summer. Microdermabrasion and dermal peel treatments are perfect in Autumn, revealing beautiful fresh new skin without the intensity of something like IPL.  As the seasons shift, now is the time to start cracking out the more active-ingredient loaded products, like anything including retinol or peptides to encourage your skin to renew and recycle. By now you should have a strong, regular skin routine and so now is the time to start adding on to that solid foundation with serums and facial scrubs that haven't been part of your routine before. This is a habit that will need to go with you throughout the year, but now is a great time to expand your skincare routine. Autumn is also a great time to look at your whole health and how that is coming out in your skin. Whether it's cleansing teas, supplements or refocussing your diet around clean foods, this is the season to develop beautiful skin from the inside out.
If you're serious about getting rid of hair once and for all in 2020, now is also the time to look at your IPL treatments. IPL treatments need to be done away from the heat of summer and need some serious time to allow them to work best – if you start your treatments in Spring, you're not going to have enough time to reach your end goal. Instead, start in Autumn or Winter and be ready for silky smooth legs and underarms all spring and summer long!
WINTER
Winter is the time when we focus on our more intense, results-driven treatments. Winter offers our skin a break from the sun's UV rays and so brand new baby skin that is produced by these more intense treatments won't be immediately damaged. Think IPL treatments to reduce fine lines and redness; chemical peels to give you a more luminous glow and remove the outer layers of your dermis or micro-needling to produce beautiful plump, glowing skin. Think about your treatments as a series of preventative measures and stack them together in a skin plan to ensure the best results from a good mix of treatments. Speak to any of our Skin Specialists to create your Personalised Skin Plan with Museo.
SPRING
Spring is a time of growth and renewal, and this is absolutely true for your skin too. After a winter of intensive treatments, your beautiful, fresh new skin will be out in full force – so it's important that we treat our skin better than we have previously. We want to layer all the different habits and products we have used through the year at this time as we head into peak party season, so make sure you're continuing to apply all your serums and moisturisers, cleansing your face properly and having regular facial treatments to keep the results of your hard work looking beautiful. A soothing facial including alginate can be wonderful at this time of year after all your intensive treatments or focus on your mental health as we head into one of the busiest periods of the year with one of our mindfulness facials.
If your focus for the year is to take better care of your skin, or simply to have better skin, this is absolutely your year to achieve it. The team at Museo wants you to love the skin you're in and help you develop good habits for the future of your skin. We have a team of Skin Specialists on hand to answer any questions you have, recommend treatments and direct you towards the right products for at-home care, all as part of your Personalised Skin Plan.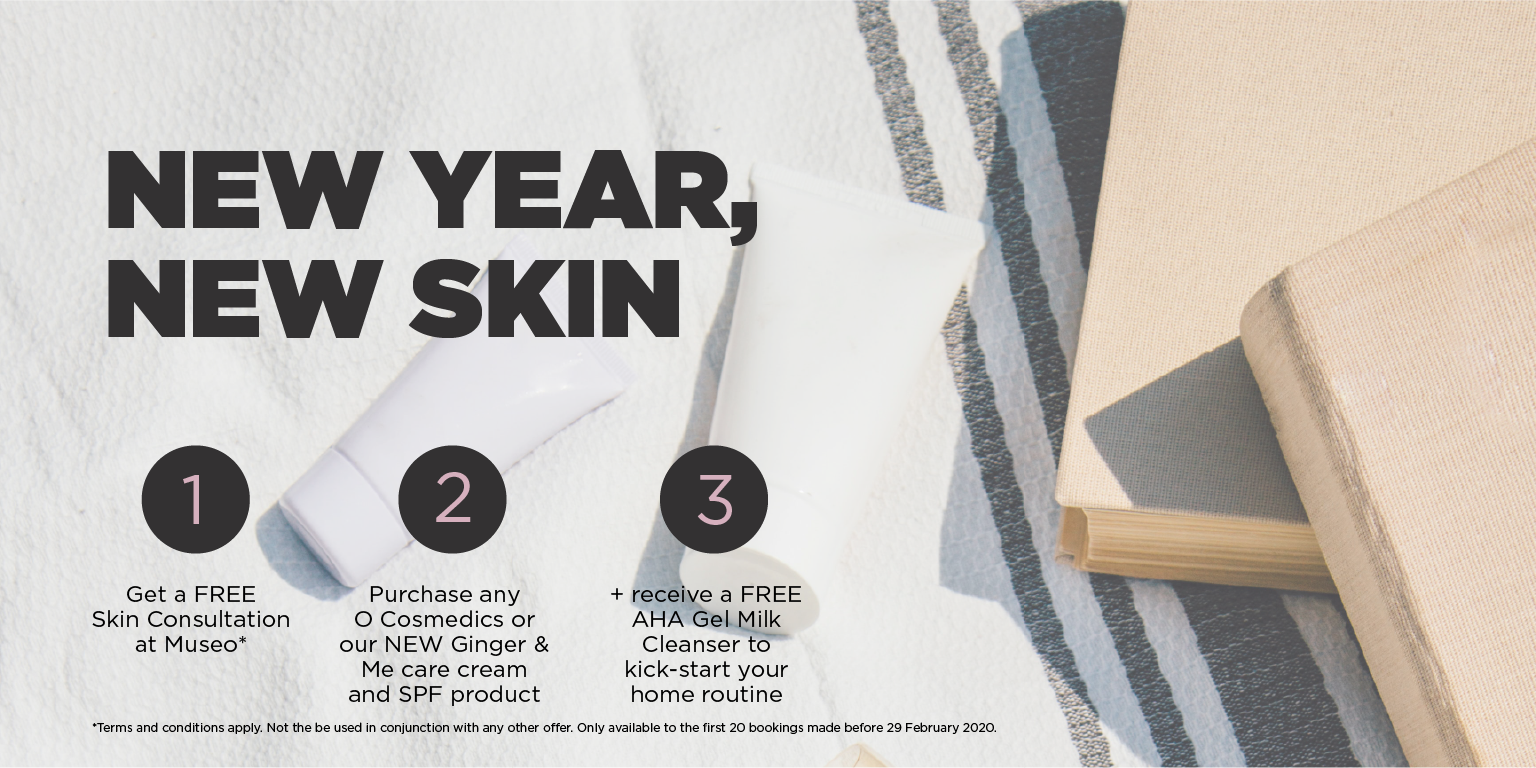 If you would like to up your skin game in 2020, we would love to invite you to a complimentary skin consultation (for the first 20 appointments made) with any of our specialists to put you on the path to better skin. PLUS we will help you kick-start your home-care routine with FREE AHA Gel Milk Cleanser with every O Cosmedics or NEW Ginger & Me Care cream and SPF product purchased! That's a total $109 in bonuses – all for deciding to dedicate to your skin in 2020*! Simply mention this offer from our blog when you call 9371 2299 to secure your consultation.
*Terms and conditions apply. Not to be used in conjunction with any other offer. Only available to the first 20 bookings made before February 29 2020.